Newsletter
Acorn is now producing a newsletter for supporters, partners and professional contacts.  Download the latest below:
---
Acorn Appoints Patron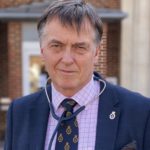 Acorn is pleased to announce the appointment of Dr Tim Fooks as its Patron. Dr Fooks was appointed High Sheriff of West Sussex in March 2020, and holds the role for a year.
Dr Fooks recently retired as a GP in Pulborough, but has returned to work for the NHS in the current coronavirus crisis. He was appointed High Sheriff at the end of March, and the appointment lasts for one year.  Part of the role is to work with the voluntary sector. Dr Fooks said "I am delighted to become a Patron of Acorn Pregnancy Counselling Centre. In my role as a GP I would see patients affected by unintended pregnancy or pregnancy loss, and I recognise the great value of Acorn's work in offering clients a safe place to explore their feelings and their options at times like this."